Cappadox Festival in Cappadocia: music, contemporary art, gastronomy and hot air balloons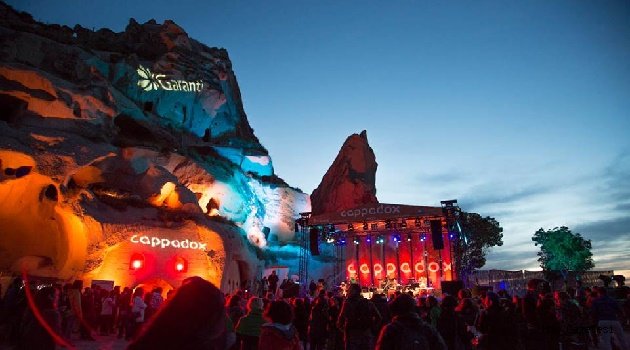 Cappadox Festival in Cappadocia is coming!
For the forth year in Cappadocia, a festival of music, contemporary art, gastronomy will be held. Of course, with many outdoor activities, like hiking, biking, yoga classes and with all beauty of hot air balloon festival in the air.
Cappadox is the festival in Cappadocia, Turkey, which unites local and international creative teams and participants from all over the world. The theme of the Cappadox 2018 festival is "Silence".
This year the festival program is extended to 6 days, this is the answer to the huge interest of the festival participants and the inhabitants of Cappadocia. We thank the main organizer - Pozitif, and the main sponsor - Volkswagen - for the support. The festival in Cappadocia will be held from 14 to 19 June.
Festival outdoor activities include hiking trails in the valleys of Göreme National Park, mountain biking around Cappadocia, morning yoga classes during sunrise with hot air balloons over the sky and other cultural activities.
The Cappadox Festival 2018 is a great chance to combine several terrific opportunities:
-
take hot air balloon tour in Cappadocia
;
-
explore the National Park of Göreme, a UNESCO world heritage site, see fairy-chimneys and valleys in Cappadocia
;
- discover the history of Cappadocia, the unique territory inscribed in the UNESCO World Heritage list, explore ancient and fascinating
underground city Derinkuyu
;
- enjoy music, contemporary art and variety of Turkish cuisine, maybe participating cooking classes and other cultural activities.
Watch this beautiful video filmed during Cappadox festival 2016 to feel the vibes of the festival in Cappadocia:
Don't wait and book your tickets, balloon flight and the hotel before it is too late - every year more tourists come to Cappadocia to the music, art, gastronomy and hot air balloon festival Cappadox.
For your convenience we offer
package tours to Cappadocia from Istanbul
.
Especially for tourists enjoying sunny beaches of Southern Turkey, we are opening
new direction "Tours to Cappadocia from Antalya"
.
The program will also be convenient for those who want to visit Cappadocia from Kemer and Alanya. The options include flight from Antalya to Cappadocia and bus transfer.
Contact us
and find out details of the program, we will be happy to organize your vacation comfortably.
---
Recent Posts