Brief Information About Cappadocia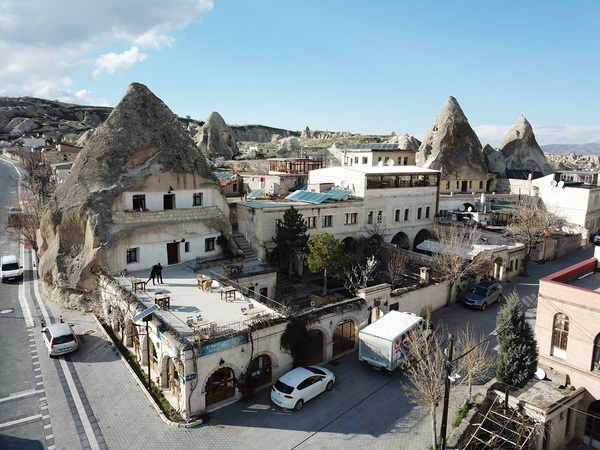 Brief information about Cappadocia
Cappadocia is a unique area with its nature, history and geography attracting many tourists and travelers from all over the world.
Here are some quick answers of common questions about Cappadocia.
How to arrive Cappadocia from Istanbul?
Turkish airlines, Pegasus airlines, Anadolu Jet airlines and Atlas Global airlines have flights to Cappadocia from Istanbul Ataturk and Sabiha Gokcen airport.
You could either pick Nevsehir NAV airport or Kayseri ASR airport as arrival airports in Cappadocia.
Once you are in either of the airports, we can help you arrange airport shuttle bus transfer from both airports.
Please contact us for any inquiries.
How many days is good enough to spend in Cappadocia?
Minimum 2 Nights and 3 full days or if you have time at least 3 Nights and 4 full days is needed to wonder around Cappadocia region as it is a large area full of history and nature.
Where to stay in Cappadocia?
Definitely Göreme village.
Göreme town is right in the middle of everything. You can have easy walks to valleys, historical churches and you could also take local buses to other villages around.
Also most of the cave carved hotels are located in Göreme Village.
Our suggestion is Cave Hotel Saksagan in Göreme.
What to do in Cappadocia?
a. Hiking in Göreme National Park
b. Staying in a Cave Hotel
c. Hot air Balloon Ride Cappadocia
d. Visiting at least one Underground City
e. Göreme Open Air Museum
f. Horse or Camel Ride
g. Sunrise Photo Shooting with many Hot Air Balloons
Where to go in Cappadocia?
a. Göreme Open Air Museum
b. Pigeon Valley
c. Cavusin Village
d. Uchisar Castle
e. Avanos pottery making
f. Pasabag Fairy-Chimneys
g. Devrent Imagination Valley
h. Urgup
i. Mustafa Pasha
j. Derinkuyu or Kaymakli underground cities
k. Ihlara Valley
l. Aladag Mountains
m. Kayseri Erciyes Mountain
Which restaurant is good for dining?
a. Fay Boys Restaurant
b. Safak Café Restaurant
c. Seten Restaurant
d. Dibek Restaurant
e. Topdek Restaurant
f. Pumpkin Restaurant
---
Recent Posts