Hot Air Balloon Turkey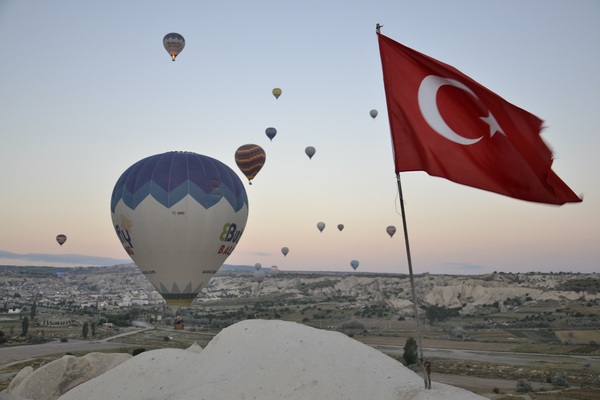 Hot Air Balloon Turkey
Hot air balloon in Turkey started first in Cappadocia region after a hot air balloon festival and competition. Competitors who came to region fell in love with the nature and geography of Cappadocia and a couple decided to settle in to start passenger hot air balloon rides in 1991.
Göreme National Park is the most common place to fly hot air balloons in Turkey. The national park took part in UNESCO world heritage sites in 1985. Hot air Balloons are taking off inside the valleys of Göreme and rise up to 6000 feet to view this amazing landscape from the bird eye. Visitors are enjoying a 1hr or one and half hour hot air balloon flights in the very early moments of the day during sunrise. According to the speed of the wind the hot air balloons proceed in the air and land in a suitable area.
Later, still in Cappadocia region of Turkey hot air balloons started to fly over Ihlara Valley. A local balloon company carried their hot air balloons to fly over 13km canyon named Ihlara located in Aksaray city of Turkey. Formed by the river for many years Ihlara Valley is usually called "Mini Grand Canyon" by visitors who has the chance to fly over this magnificent formation.
Hot air Balloon Turkey, continued by Antalya region couple of years ago but it wasn't easy to fly over Antalya city of Turkey as it is a sea side town in Mediterranean with extreme hot weather conditions. The weather must be cool enough for a hot air balloon to rise in the air easily. That was the main reason why the hot air balloons could not continue flying in Antalya.
Pamukkale region in Denizli is another place where hot air balloons are flying in Turkey right now. First attempt was long time ago by Kapadokya Balloons company but then it wasn't the right time for hot air ballooning in Pamukkale probably. At the moment there are 5 companies, some regularly running every morning and some are working on their last documents and licenses to get permission from the government. With its natural cotton pools, thermal spring water and history Pamukkale region is waiting visitors from all over the world to fly on hot air balloon Turkey.
Finally, North Cyprus – Turkish Side- was another place in Turkey tried doing hot air balloon rides. However, being an island and having warm summer days' hot air ballooning didn't seem like really worked in the area.
Doing hot air ballooning in Cappadocia is still the best option for those who likes to experience this once upon a life time experience. With its valleys, caves, fairy-chimneys and unique geography Cappadocia is one of the best places to do hot air balloon ride in the world.
---
Recent Posts