CAPPADOX FESTIVAL 2018, CAPPADOCIA TURKEY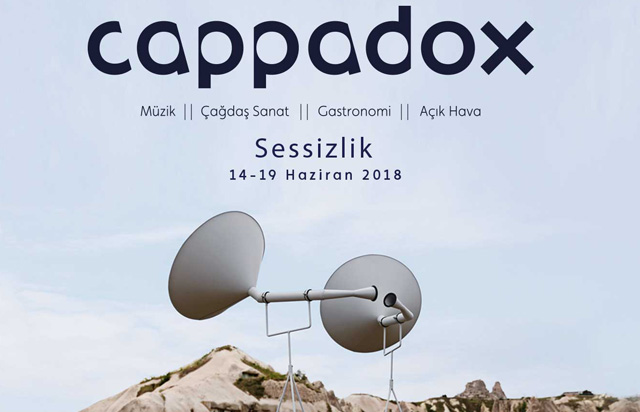 CAPPADOX FESTIVAL 2018, CAPPADOCIA TURKEY
A cultural organization of music, gastronomy, contemporary art and outdoor activities Cappadox festival will take part on 14 – 19 June 2018 in Cappadocia with participants from all over the world. The theme of Cappadox festival will be "silence" this year.
In only last 3 years Cappadox festival has turned out to be one of the biggest social activities in Turkey with the help of magical moon like lunar landscape of Cappadocia region. This year the festival will be longer than before and will start on the 14th of June until 19th. Universal music group concerts, hiking trails in the valleys of Göreme National Park, morning yoga classes with sunrise and hot air balloons over the sky, mountain biking around Cappadocia, Turkish cuisine cooking classes and other cultural activities will entertain participants according to their interest. Each activity will have its one entrance ticket and tickets will be sold at www.biletix.com and www.cappadox.com tickets stands in Göreme and other villages organization will take part.
As it has been before the organizations and activities will take part in Göreme and Uchisar villages. Transportations from both villages will be available for participants. Being ready at least 30 minutes before the departure time is suggested for those who like to use the free public buses from one to another organization area. Being too close to each other the villages of Cappadocia such as Urgup, Avanos, Göreme and Uchisar there are public buses and taxies available 7/24.
As always been, Göreme will be the most popular village for Cappadox festival participants to stay at. Our suggestion is "Cave Hotel Saksagan" www.cavehotelsaksagan.net with its cave carved natural modern rooms with magical views towards Red Rose Valley.
People who are traveling to Cappadocia by plane can use our airport transfer shuttle buses from Kayseri and Nevşehir airports to their hotels in Cappadocia. You can easily book your Cappadocia airport transfers from Helios Airport Transfer Company or send us inquiry mail to [email protected]
Cappadox festival will bring dreams true in 2018 again. Don't wait and book your tickets, accommodations and especially hot air balloon tour in Cappadocia before it is too late - much more people are coming every year.

See you at Cappadox festival 14-19 June 2018.
---
Recent Posts