Kayseri Erciyes Ski & Cappadocia Hot air Balloon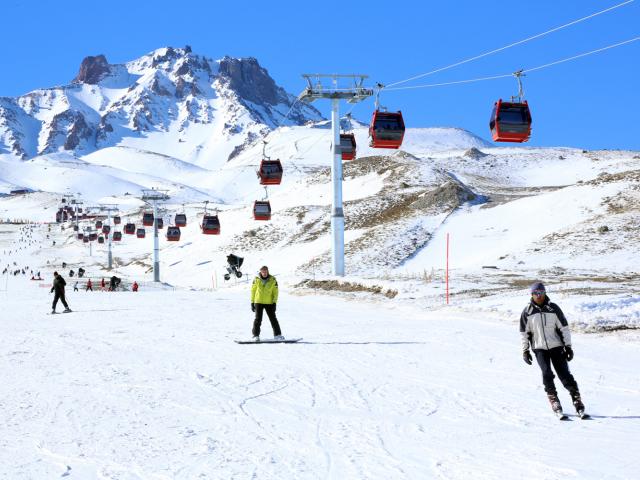 KAYSERI ERCIYES SKI & CAPPADOCIA HOT AIR BALLOON
Cappadocia region is a large area in the middle of central Turkey and has many excursions and activities to offer people who are visiting. Erciyes mountain with 3917-meter height is the real existing of caves, fairy-chimneys and valleys in Cappadocia. As well as being a mother symbol and appearing every Cappadocia photo from kilometers far away, Kayseri Erciyes mountain is also open for ski lovers during winter season.
Erciyes mountain is only 90km from center of Cappadocia, Göreme village. More or less in 1-hour drive one can get to the ski entrances on the mountain very easily. It is even easier for those who arrive to Kayseri airport, only 30km from the airport to get to the top of the mountain.
There are 4 entrances for ski resorts; Tekir, Hacilar, Hisarcik and Develi. All the entrances and pistes are connected each other at Mt. Erciyes. There is 76km piste in total. Our favorite is Hacilar Kapi with its 3km piste, cable car and views of Kayseri city from the top. The cost of the cable car is 12 TL for adult and 9 TL for student. Every entrance of ski resorts there are shops to rent ski equipment's for hole day and it doesn't cost much at all, only 50TL.
If you are leaving from Cappadocia to Kayseri Erciyes mountain for Skiing, we would suggest heading around 8:00 am in the morning. It will take more or less 1-hr to get there and you will spend some time choosing for the right skiing equipment, purchase your lifter tickets. If you pick Hacilar kapi for skiing the cable car will take 15 minutes to take you to the top of the piste. Skiing down with magical city view of Kayseri, you will have amazing fun time up there.
Cafes and restaurants are available at the ski places everywhere at the mountain. Enjoy BBQ Kayseri sausage, meet ball köfte and many other traditional Turkish style lunch.
Once you are in Cappadocia, do not leave without doing hot air balloon and viewing Mt. Erciyes from the sky. Winter season offers one of the best views of Cappadocia from the air. When Cappadocia wear white dress and hot air balloons start to dance in the air.
Enjoy your time in Cappadocia with Kayseri Erciyes Ski adventure and Cappadocia Turkey hot air balloon ride.
For more information about Erciyes Mountain please visit: http://www.kayserierciyes.com.tr/
---
Recent Posts