Where is Cappadocia?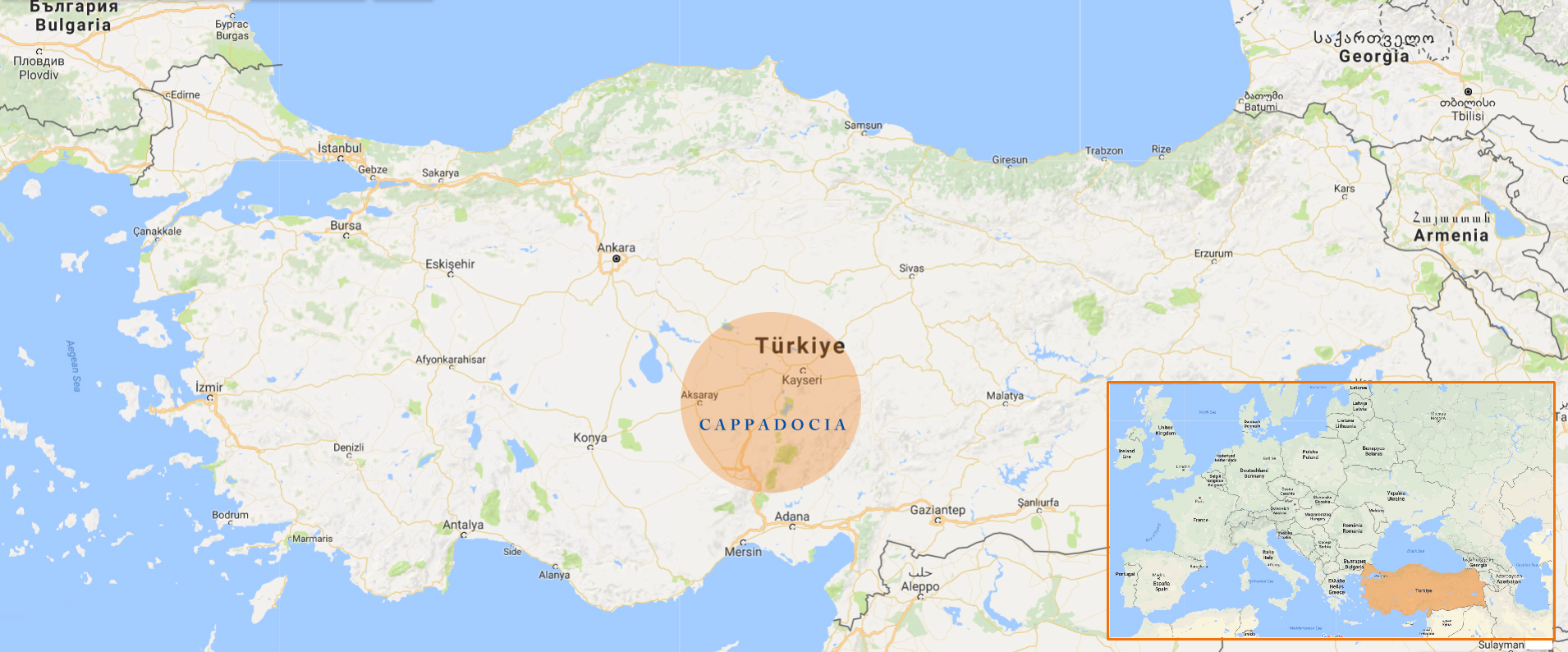 Where is Cappadocia?

Cappadocia is a unique area famous with its; volcanic rock formations, underground cities, cave carved churches, pigeon houses, naturally shaped valleys, cave hotels and hot air balloon rides in the world. For many years Cappadocia has been one of the most interesting and exiting touristic sights for those who traveled in Turkey with its natural beauty, history, culture and absurd formations.
When searched "Cappadocia" or "Kapadokya (in Turkish)" on Google Maps or any other online map, there will not show up anywhere in lined! This is because there is nowhere called as Cappadocia officially. In the law of Republic of Turkey there is no official city, province or area called Cappadocia, it is all about history!

So, where does Cappadocia name come from?

The name Cappadocia dates back to Bronze age. After Hittite era, the area was controlled by the Persians during 6th BC and named as Katpatuka which meant "The Land of Beautiful Horses" until a serious attach by Alexander the Great. However, the local Cappadocian resisted against and kept the area for long time until Romans concurred the area around 350 BC which later will be Byzantine until the end of 2nd century when Seljuk Turks came and met this geological and positional important area.

Today, the region Cappadocia is located very centrally in the middle of central Anatolia. It exists of five main cities of TURKEY: Nevşehir, Aksaray, Kayseri, Nigde and Kirsehir. However, Göreme Village – The National Park of Göreme - is usually considered as the heart of Cappadocia. Göreme National Park has been one of UNESCO world heritage sites in 1985, since then when said Cappadocia, Göreme came after just as saying: "fish and chips!"
In conclusion, if Turkey is a bridge from Asia to Europe, Cappadocia is located in the middle of the bridge.
Here are the distances of Cappadocia (in km base) from major cities and towns of Turkey;
Istanbul to Cappadocia: 750 km (8-hour drive)
Ankara to Cappadocia: 300 km (3.5-hour drive)
İzmir to Cappadocia: 770 km (9-hour drive)
Antalya to Cappadocia: 540 km (7-hour drive)
Fethiye to Cappadocia: 740 km (9-hour drive)
Konya to Göreme: 235 km (3-hour drive)
Pamukkale to Cappadocia: 620 km (7-hour drive)
Metro and Kamil Koç bus companies have day and night buses to Cappadocia, Göreme from every city suitable for almost everyone needs.
People who likes to come Cappadocia with plane, there are 2 major airports in the area; Nevşehir (NAV) and Kayseri (ASR) airports. All year round Turkish Airlines, Pegasus Airlines, Atlas Global, Onur Air and Sun Express have direct flights from Istanbul, Antalya and Izmir.

On your arrival to Cappadocia airports, Helios Airport Transfer company can meet you at the airport your name written on the board and drop you off at your hotel in Cappadocia.

Ps: Reservation before hence is necessary..

Do not forget to mention that you hear about them via our blog and win your %20 discount!
---
Recent Posts