WHY CAPPADOCIA IS COUNTED AS ONE OF THE BEST PLACES TO DO HOT AIR BALLOONING IN THE WORLD?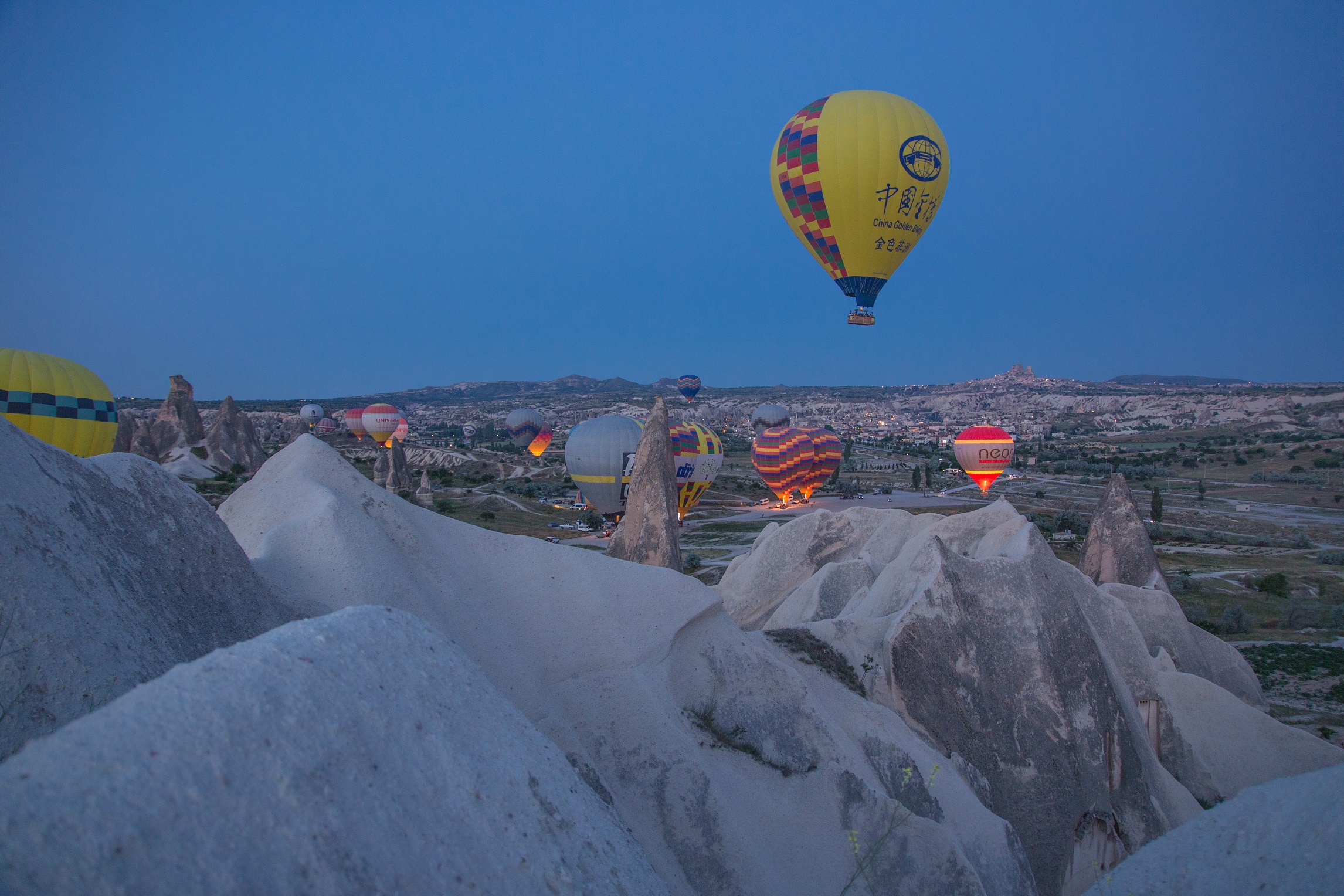 Cappadocia itself is a magical place welcoming visitors from all over the world for many years. With its unique volcanic rock formations, valleys, ancient churches and caves and fairy-chimneys the area is one of a highlight of Turkey. Right now, Cappadocia is counted as one of the best places to do hot air ballooning in the world and it has quite real reasons for that.
First of all, the climate in Cappadocia is perfect for a hot air balloon ride. Cappadocia is almost 1200-meter-high from sea level and there is big difference between day and night temperature, just like in the deserts. In Cappadocia region even during hot summer days, early mornings before sunrise is not more then 18-20 degrees. This will allow hot air balloons to rise in the air with a small amount of gas. As it is lived 4 seasons of a year in Cappadocia region only in harsh Autumn days the flights are canceled few days. More or less 300 days of a year could be flying in the area. There is a gentle breeze in the morning for hot air balloons to take some road especially inside the valleys of Göreme National Park. As there is no controller for hot air balloons, they need some light wind to push them to move but this needs to be done very gently. Göreme village is a canyon in the middle of Cappadocia and the caves and fairy-chimneys cuts the heavy wind on top and leaves a gentle, soft wind inside the valley for hot air balloons to drift like a boat on the river. Once the hot air balloons take some road and leave out of the National Park of Göreme than the landscape will become a flat area which will allow many places for hot air balloons to take off gently, most often right on the trailer.
Natural, volcanic, historical and unique geography of Cappadocia is one of the main reason that makes this amazing area one of the best places to do hot air ballooning in the world. Cappadocia is a larger area but most hot air balloon flights are done over the National Park of Göreme, a UNESCO world heritage site. This is mainly because most interesting shapes of fairy-chimneys, caves, valleys and pigeon houses are exited inside this naturally shaped volcanic canyon. Once taking the hot air balloon ride in Cappadocia, one will drift around the fairy-chimneys and caves, dive into the valleys of Pigeons and Love and rise above Rose & Red. Sometimes will move so close to apple and walnut trees to pick fruits and sometimes will go 2000 feet up to the sky for a magical bird eye view.
Other many colorful hot air balloons in the sky also makes Cappadocia a magical place do hot air ballooning. While enjoying the natural beauties seeing other many colorful hot air balloons in the sky will amaze the rider. Definitely one will try to count how many hot air balloons there are in the air but will get tired when its over 50-60 :)
In conclusion, Cappadocia is a unique place in the world! For more than 20 years' hot air balloons are flying in the area and as a local I have to admit that Hot Air Balloons had a great influence on the visitors coming to Cappadocia. Right now almost 2000 people are enjoying this "once upon a life time experience" over Göreme National Park every day, weather permitting.
---
Recent Posts