Turkish Cuisine in Cappadocia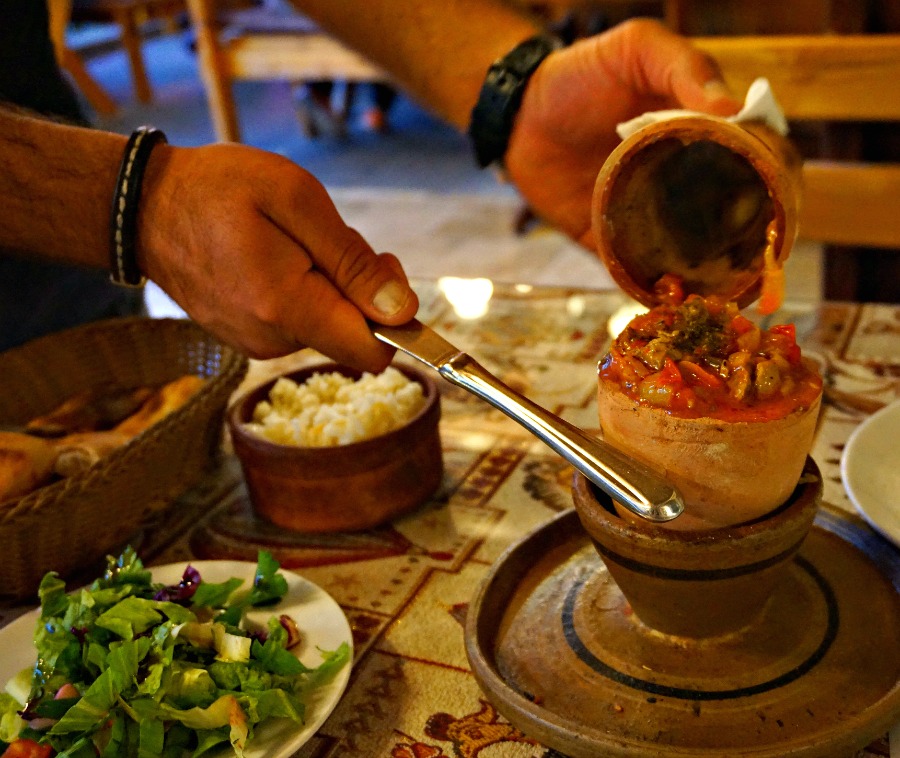 Trying Turkish cuisine is one of the best parts about visiting the country. Every region has its local specialties, and Cappadocia is no exception. Turkish cooking uses high-quality ingredients that are natural and healthy: the aromatic spices, the fresh vegetables and fruit, and the tender meat all make up the simple yet exotic meals.
Cappadocia, like the rest of Turkey, is famous for its pottery kebabs. This delicious marinated meat, usually lamb or chicken, is served either stewed or grilled over wood ovens. They come in different varieties and are marinated with spices and then grilled on an open charcoal fire on skewers. Fish is also grilled in the same way.
Doner kebab is not only one of the most popular dishes here; it has spread throughout the world. This big roll of meat is turned on a vertical skewer in front of a grill. It is served either in a sandwich or with rice. Other popular dishes that are typical of this region are sac kavurma, made of lamb and stewed with onions, green peppers and tomatoes, and alanazik, made of ground meat and eggplant.
There are a number of dishes based on eggplant, one of the most used vegetables in Turkish cuisine. Karnıyarık is eggplant stuffed with tomatoes, onion, garlic, and minced meat. This dish can also be prepared without meat and served cold, and is called imam bayildi. If you're hungry for more eggplant, try the hünkar beğendi (Sultan's Delight), patlıcan salatası (roasted eggplant salad), and patlıcan dolması (eggplant stuffed with rice).
Do not leave Cappadocia without trying the manti, little Turkish dumplings filled with minced meat and served with yogurt, mint, pepper, oregano, and butter or olive oil.
Cappadocia is known for its fruit, particularly its grapes. Therefore, the region is also known for its local wines, especially wines from the region's two biggest wineries, Turasan and Kocabağ. There are at least five local wineries. If you get invited into a Cappadocian home, you might be offered home-made wine.
Cappadocia also boasts a wide variety of desserts, many of which are milk-based. Try the tavuk gögsü, a gelatinous milk pudding; the different types of helva, made of sesame seeds, flour, semolina, etc.; sütlac, a rice pudding; and asure, a sweet soup with beans and dried fruit, to name just a few.
Cappadocia is a great place for eating out, so be sure to try a bit of everything. For those interested, some places offer cooking classes.
---
Recent Posts