Top Photography Spots in Cappadocia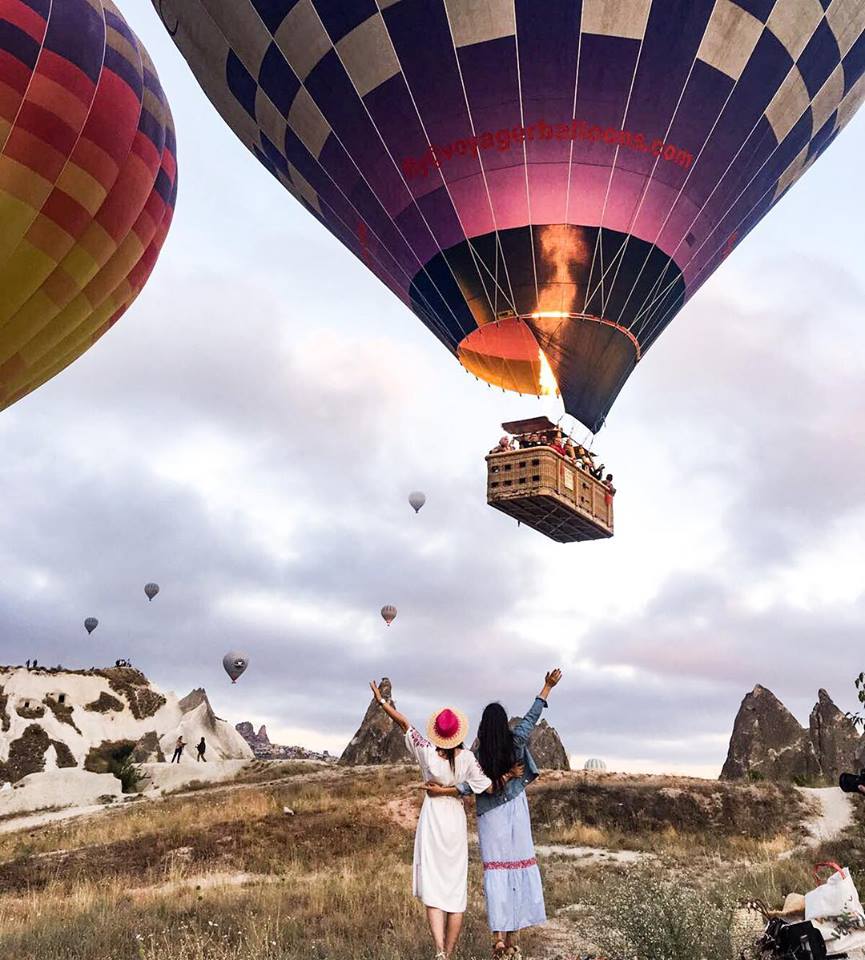 From stunning volcanic rock valleys to the iconic dawn horizon filled with hot air balloons, Turkey's Cappadocia is quickly becoming a go-to destination of choice for photography addicts. Whether your preferences tend towards sunny wide-angles, evening bokeh or astrophotography, Cappadocia is bound to keep you reaching for your camera time and time again. Read below for a round-up of some of the top photography spots in Cappadocia.

1. Onwards and Upwards: Hot Air Balloons
Over the course of two and a half decades, Cappadocia's reputation as one of the most popular hot air ballooning sites in the world has gone from strength to strength. Every day just before dawn, atmospheric conditions permitting, Cappadocia's valley floors and plateaus light up with intermittent flames shooting air into inflating balloons, sometimes as many as a hundred. By the time the sun peaks over the rock formations, the skies of the historical region provide the majestic, dreamlike site of colourful balloons drifting between rocky summits and flat plains. The best way to capture your own must-have balloon shot is, of course, by taking a balloon ride. From stunning balloon-dotted vistas to bird's-eye views of fellow balloon companies, the photographic opportunities are incredible. However, if your time and tolerance for early mornings permits, then it is well worth chasing down the balloons a second time to take shots from the ground. Anyone of the surroundings viewpoints will do. A good place to start is by taking the road Bilal Eroğlu Cd. out of Göreme in the direction of Avanos at about 4:30 am, and then following the balloon trucks and company minivans to the launch sites. Tour guides and balloon crew members will happily let you join in taking pictures of the inflating balloons, and then you can follow the footpaths to higher ground for excellent 360-degree views of the balloons taking off. This also works for those of you who are budget travellers who may not wish to purchase a balloon flight, especially if it is something you have already done elsewhere.
2. Wider Angles: Göreme National Park
Remember your wide-angle lenses for making the most of the stunning landscape of the Göreme National Park. After millions of years of volcanic activity, the park is home to wide valleys, slopes of rock striated with different colours and the unique, tower-like rock structures of the magical fairy chimneys. The Central Anatolian region is semi-arid and very sunny, allowing for magnificent chiaroscuro; however, there is also an abundance of vivid flowers and trees for getting experimental with depth of field. When exploring the rock churches and Byzantine troglodyte dwellings, be prepared to change it up to capture the ornate frescoes in low-light settings.
3. Avilcar Valley: Göreme and Uçhisar Panorama Point
Göreme is a tranquil town that is nonetheless thrumming with a vibrant tourism industry. With winding streets of sand-coloured buildings stacked on top of each other up gentle hillsides, it is well worth taking the time to visit the panorama point at Avilcar Valley that gives picturesque views of both Göreme and neighbouring Uçhisar. This viewpoint is easily accessible by the main road out of Göreme towards Uçhisar and you can make the journey either on foot or by bike. As is the custom in the Cappadocia region, the viewpoint boasts a number of hilltop cafes with sofas and benches overlooking the towns, as well as a number of souvenir shops. Between capturing postcard snaps of dreamy Göreme below, keep an eye out for the pigeons that nestle in the fairy chimneys throughout this stretch of land. Be like the locals and rest your feet while drinking chai, before pushing on to Uçhisar castle.
4. King of the World: Uçhisar Castle
No trip to Cappadocia would be complete without taking in the very highest point in the region, to be found at the top of the rocky outcrop of Uçhisar Castle. While wandering through the valleys or drifting in your balloon, you will probably be navigating by two points: the near summit of Uçhisar and the far summit of Mount Erciyes. A trip to Uçhisar with a zoom lens will provide fantastic shots of the faraway, perennially snow-capped mountain, the now extinct volcano Erciyes that has the highest altitude in all of Anatolia. Furthermore, the whole inspiring region of Cappadocia will lie at your feet. Uçhisar Castle is, in some ways, the best rock-cut structure of them all: a defensive fort carved directly into the rock that is now encircled by pigeons and enchanted tourists. Uçhisar is a peaceful town, far quieter than nearby Göreme, comprising fairy-chimney hotels, daisy flowers, interesting fountain features and donkeys and dogs providing humour on the streets.
5. Only by the Stars: Fairy Chimney at Night
Like other arid or semi-arid regions, Cappadocia is an excellent place for astrophotography. The surrounding towns are small, ensuring light pollution is minimal, and the hot, dry climate means that you have a very good chance of clear skies at night, especially during summer. Any number of Cappadocia's unique and stunning valleys will provide for perfect night sky shots and an astronomy smartphone app will point you in the direction of the best constellations. Undertake location scouting during your daytime hikes, then return to your chosen spot to set up the tripod and wait for the sun to go down. The standalone rock towers of the fairy chimneys make great subjects for star-trail pictures. If you are lucky enough to be staying in a secluded fairy chimney hotel, then you may have the option of getting your night-time fairy chimney photo from the comfort of your own terrace. Otherwise, if you decide upon travelling further afield, be safe and set up your maps for the return journey. Remember your flashlight and warm clothing.
6. Fall in Love: Sunset Point
Starting at the Pumpkin Restaurant and Art Gallery in Göreme, follow the winding backstreets uphill until you come to Göreme's Sunset Point. The viewpoint is only about five minutes from the town centre and there will be a lot of sightseers making the pilgrimage up and down, so blend in with the crowd, relax in the sunshine and don't worry about getting lost. Sunset Point is a favourite spot for newlyweds to get their first couple pictures taken; and if you speak to the locals, they will tell you the spot is known locally as a place for lovers. Dreamy, romantic and peaceful, it is, of course, the prime location for watching the sun setting over Göreme and the wider landscape. An excellent way to bid farewell to Cappadocia and your new friends with your last few hours in town.
7. Blurred Vision: Bokeh Photography in Göreme Town Centre
Once the sun goes down, Cappadocia's restaurants and workshops come to life. With warm nights and gentle breezes, after sunset is absolutely the best time to roam the town centre for souvenirs, whether you are in the market for a Turkish carpet or a fridge magnet. With its soft lamps, glowing windows and dinner candles, fans of bokeh photography should remember to bring their cameras along. The iconic gourd-lamps of Melih's Workshop on Isalih Cd. provide great scope to get creative with bokeh shots. These carved-out gourds are varnished and bejewelled lamps that throw out stunning patterns of coloured light. The craftsman also creates gourds in the shape of hot air balloons, if you want a balloon picture with a difference!
This our line-up of the best photography spots in the region, but always remember to chase down your own memories and photographs. Happy snapping, Cappadocia is the place to do it!
---
Recent Posts