Exploring Göreme National Park by Foot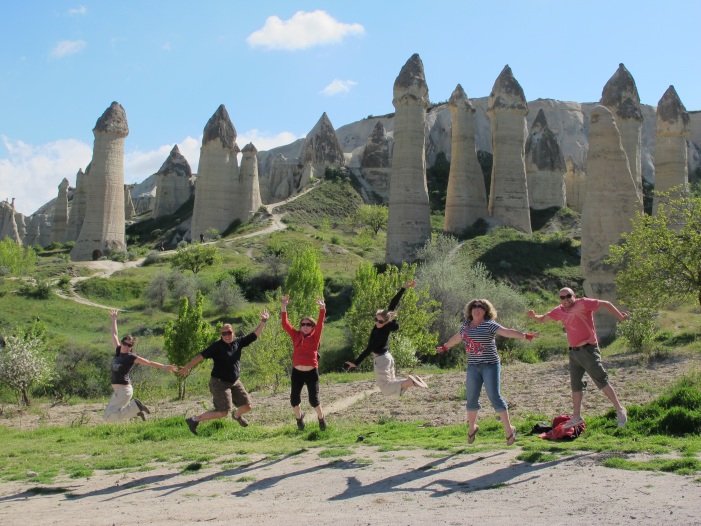 Undeniably the most popular way to experience the unique rock formations and breathtaking fairy chimneys of Cappadocia is by hot air balloon, floating dreamily in the sky with friends and family as the sun climbs higher and bathes the valleys in warm colours. However, so much of the complex history of Cappadocia through the ages makes itself known through the details; rock-hewn churches, pigeon valleys, cave frescoes, stunning panoramas, the asymmetry of light and shadow in the semi-arid wilderness. For these reasons and hundreds of other, the discerning tourist will definitely make time to explore Cappadocia by foot as well as by air.
Göreme National Park and the rock sites of Cappadocia are located in the boundaries of Cappadocia in Turkey's Central Anatolian region. Cappadocia is a historical concept used in Christian antiquity that today implies the stretch of natural wonders that can be found largely in the Nevşehir, Kayseri, Kirşehir, Aksaray and Nigde provinces in Turkey. Cappadocia is approximately 750 kilometres from Istanbul and occupies higher ground forming a plateau with an elevation of over 1000 metres above sea level. The area boasts a thriving tourism industry and is easily accessible by air and bus links running daily.
The Göreme National Park is located on the peripheries of Göreme town, a vibrant hub of artisanal shops, traditional ateliers, cobblers and clothes specialists, excellent restaurants and a top quality hotel offering. There are a number of hiking and vehicle rental agencies located in the town that can provide practical advice on the best routes to take, the sites to look out for and further information on the geology of the landscape. A short walk through the centre of town taking the main streets of Bilal Eroğlu Cd. and Adnan Menderes Cd. will bring you into contact with several reputable agencies in quick succession. The tourism industry in Göreme is very welcoming, bringing warmth and expertise to every transaction; and bilingual services in English and Turkish are the standard. Visitors need not book ahead or undertake too much research before arrival if they do not wish to, as it is so easy to find what you need in situ.
Göreme National Park and the rock sites of Cappadocia are celebrated for both geological and for cultural reasons, the combined international importance of which was formalised when Cappadocia was inscribed in the UNESCO World Heritage list in 1985. The striations and pinnacles of the rock valleys were formed entirely by volcanic eruptions that first eroded the land 30 million years ago, with these now-extinct volcanoes- including Erciyes, Hasan and Melendiz Dağlari- lying to the north and south of the modern communities, dominating the skyline. It is thought, from depictions in Roman art, that Mount Erciyes may have last erupted as late as 234 BC. The eye-catching 'fairy chimneys'- freestanding towers of rock that can reach up to forty metres of height and that draw thousands of tourists every year- were also formed by way of lava erosion and volcanic activity, created from deposits of volcanic ash. The first signs of human monastic activity are believed to date back to the 4th Century. Small Byzantine-monastic communities used these unique 'fairy chimneys' to hew out complex refuges, including dwellings and places of prayer. Göreme National Park is celebrated as an outstanding site of Byzantine art from the post-iclonoclastic period and as one of the most comprehensive examples of a troglodyte, religious community. To walk in the valleys of Göreme National Park, winding through the maze of fairy chimneys, really is a walk back into both geological and human history.
Cappadocia is a semi-arid landscape and has a hot, dry climate during the peak tourism season between April and October. Especially at high summer, temperatures can rise above 30 degrees and hikers should remember the essentials: sun hats, walking boots, suncream, lightweight sports clothing and plenty of water. The walking routes are generally easy going, with rock markers delineating the different walking paths through the Rose and Red Valleys. Additional walking routes to explore take in the Pigeon Valley and Love Valley. Visitors should look out for hidden cave dwellings and Byzantine Churches hewn into the fairy chimneys at every turn; and treat themselves to fresh juice served at one of the several panoramic, open air cafes trading in the boundaries of the park.
Exploring Göreme National Park by foot is a truly unforgettable experience, whether combined with a balloon flight or prioritised as the key highlight of a trip. Cappadocia is majestic from above, yes, but it is also beautiful in its details.


---
Recent Posts