Cappadocia, Turkey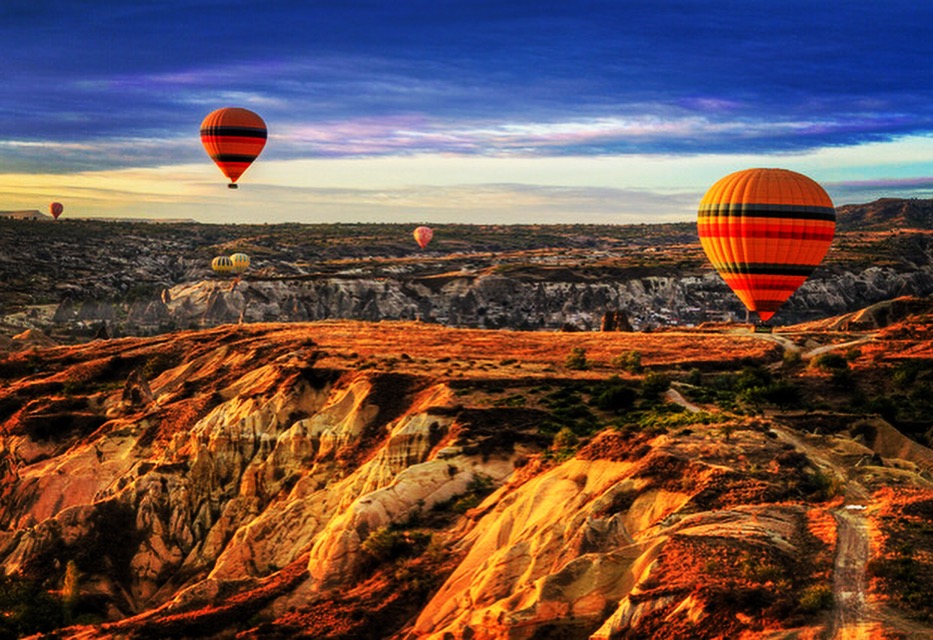 Cappadocia – Step into your dream world!
Nestled among the honeycombed mountains in Central Anatolia, Turkey, Cappadocia has a very deep history in its making. The minute you step into this land, you feel like you have stepped into a fairy tale. Some might call it an oddity, but interestingly the 'fairy chimneys' and the bronze age homes is anything but odd. It creates a fanciful outset to this amazing topography. There are quite a few things that cater to both the adventurous and high spirited travelers and those who are looking to just take a relaxing week off.
What to do in Cappadocia
Cappadocia translates to "the land of beautiful horses." The landscape itself has many things to see and adventures to take. Let us take a look at some of them that you ought not to miss when in Cappadocia.
Ø The cities underground: There are nearly 36 cities built under the natural rocky outcrop in Cappadocia. Each of these cities was believed to have had nearly 10000 people living in it, initially by the cave dwellers. Later on the same were used by the Christians who managed to escape the soldiers of Roman Empire. The architecture and engineering will simply amaze you. There are bedrooms, winery, vents, store rooms and even churches in these cities.
Ø The Open air museum: This museum is the home to some of the best churches cut out of rocks. There are murals adorning these churches inside which date back to 900AD – 1200 AD. And they are so fresh that it is hard to believe them to be so ancient.
Ø Monks Valley: This is where you get to see the fairy land in its full glory. Yes, this is the place of the fairy chimneys. These chimneys are simply natural rock structures which have been formed over the years by natural erosion. There is a local folklore on fairies having built these. You cannot miss climbing onto these chimneys and taking a look at the world from there.
Ø Devrent Valley: This valley is referred to as the imaginary valley and that is definitely so true. The specialty of this valley is that it has all the qualities of a moonscape with rock pillars resembling dolphins, camels, snake and even penguins. A must see!
Ø Avanos shop for pottery and ceramics: This town is a must visit if you love artistic renditions on ceramics. Situated on the banks of the red river, the pottery uses the clay from this river which gives it a exquisite look. A memoir to take home!
Ø Cave hotels: A way to travel back in time! It is said that the Cappadocia's early citizens were living in caves. It is definitely worth an experience to live in a cave hotel and experience it firsthand. These hotels have all the modern amenities including internet while retaining the conventional outlook.
Ø Hot Air balloons: One of the must do activity when you are in turkey is to take a ride in the hot air balloons over the landscape of Cappadocia. The sun rise and the colors painted by the sun's rays on the diverse landscape are a sight to behold and a memory to treasure.
There are also horse riding and Turkish dances to be enjoyed while in Cappadocia. Their cuisine is equally exquisite and should not be missed out. Have a day extra for your balloon ride so in case the weather does cancel your flight, you get the chance to try it the next day.
Cappadocia has rich history which dates back to the prehistoric period, the evidence of which can be still found. The different historical empires have only added to the existing architecture while preserving the history. Being a place which has a unique blend of architecture, history, fairy tale and modernity in its making, Cappadocia is a place for all those who wants to step in to their dreams.
---
Recent Posts