Cappadocia "The Land of Beautiful Horses"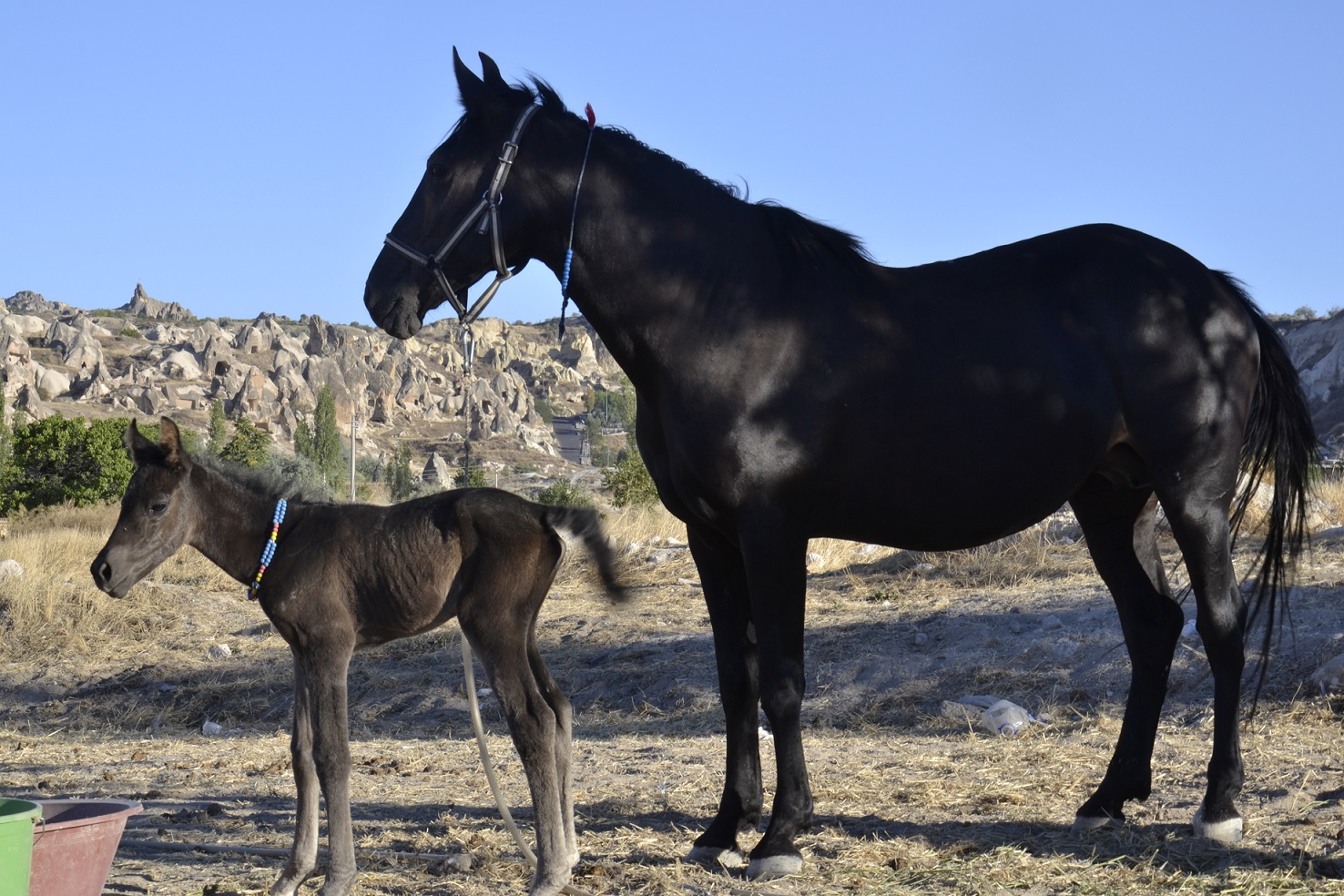 Horses In Cappadocia : the land of beautiful horses
Are you from Cappadocia and you don't have a horse, seriously? It sounds like you are from Holland and you don't have a bike! Or are you from the desert and you don't have a camel! Or you are from New York city and you don't have a subway card! It sounds bizarre right! The same applies for visitors; are you visiting Malaysia and you are not going to try Durian, the king of fruits? Or are you visiting the desert in Morocco and you are not going to try the camel tour? Are you visiting Cappadocia and you are not going to try horse riding: not possible without it!
There are bunch of quite interesting activities that you can experience in Cappadocia; hot air balloon tours that offers breathtaking view of the majestic mountains of the region, hiking through the flowered hills and lowlands surrounded by the huge mountains, exciting Quad biking (ATV) tours and last but not least Horse riding tours in the middle of Cappadocian landscape.
Cappadocia signifies the land of beautiful horses in Persian era, the horses here have always played an important role in the daily life of people in Anatolia such as; transportation and commuting, helping in agriculture and farming, taking part in wars. They truly accompanied man in wars and played a great role in the victory. Nowadays, the horses in Cappadocia became a collective passion that all the man of the region share and brag about, truly a matter of pride and honor. It is a beautiful legacy that has survived for centuries which has been handed over from father to son through generations.
If you are looking for an amazing Horse ride experience, here are some tips to get closer to your horse and enjoy it more:
· Horses need to get brushed on daily basis, it is like shower for them so you can go brush your horse to get used to it and be friends before your ride. They enjoy getting brushed and are not able to do it by themselves. Brushing a horse is also an amazing experience as well as a ride.
· Horses are very neat and smart creatures, if you are scared or nervous they will feel it right away and you will end up following their mood. They will really loose interest and get bored, will stop and look for food or just stop because they don't feel your leadership. For an enjoyable horse ride tour, try to be calm and make them grasp that you are in control, not them.
· When you are finished and off the horse offer them some sweets if you have. They will love it. You can also water them when they are dry after sometime.
Those good actions and care toward animals will give a real feeling of inner peace which makes the moment unforgettable.
In most farms of Cappadocia, there are two kind of horses that you can meet; Arabic and Anatolian horses that you can take for a ride with the assistance of the Cappadocians talented and professional riders. Let's delve humbly and slightly into the mysterious world of this sophisticated creatures and give you some basic info.
What is the difference between Arabian and Anatolian horses!
Arabian horses are much faster, taller and more sophisticated. They are always ready to gallop faster and longer than any others which makes them interesting. Just with a simple random kick they can take off for a spectacular galloping.
Arabic horses are not really adapted to wild life. Being tamed starting from birth, they rely on man for food and water for their survival. Here in Anatolia, Arabian horses require more care specially to protect theme against the cold as they were brought to Anatolia from Arabic countries, far from their natural environment and not used to live in environment as cold as Anatolia during winter time. Beside, with constant contact and proximity with man, they are easily domesticated and less nervous.
Anatolian horses are shorter and slower comparing to Arabian horses. On the other hand, they are much stronger and so much more involved into the daily life of the people. The Anatolian horses feel at home in the region that's why they are more adapted to wild life and more independent. They can feed and water themselves and sleep outside the barns, they literally don't need human interference to survive. Generally, the Anatolian horses were captured from the nature and brought to farms, trained and adopted to daily life.
The Ranches in Cappadocia are mixed with different animals, you can find dogs, chickens and donkeys all together. Horses are very famous for their beauty and majesty and they grasp it somehow, so the first contacts with the other animals are not easy, its feels like they do feel superior and more interesting, always thriving to conquer more leadership and territory. Luckily after some time less than a year, they all agreed somehow to cohabitate and live together peacefully despite all the differences, a good lesson for humans!!
To conclude we believe that each rider has a special relationship with his horse based on trust and love, the horse can understand the feelings of his rider and respond with sensitivity. Its hard to explain how this connection operates, words fall in bankruptcy, truly unrevealed secret.
---
Recent Posts