CAPPADOCIA CAVE HOTELS
Cappadocia is a unique region with it's nature, history and interesting shapes of fairy-chimnyes. Cappadocia offers one of the most unique style accommodation the experience of staying inside the cave carved rooms. We have collected some of real cave carved hotels in Göreme village offering excelent experience. Please take a look and contact us if you have any inquiries.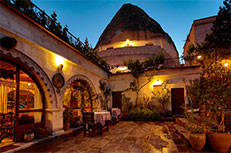 BUDGT
Cave Hotel Saksagan
Cave Hotel Saksagan Is an old house, which has been restorated and is ready to become your own home in Goreme, with rooms that offer you history, nature and culture altogether.
Saksagan Hotel provides a super view overlooking Göreme.
Rooms are located within fairy-chimneys and carved into the rocks.
All rooms are clean, spacious and decorated in the Ottoman Style, all rooms have private bath shower and toilet. Breakfast is served on the terrace, with its magical view, or in the garden accompanied by birds in song. Special dinner parties can be arranged on request.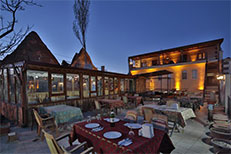 BUDGT
GöREME VALLEY CAVE HOUSE
Goreme Valley Cave House (previously named Omer's Place) is one of Goreme's oldest pensions dating back to the late 80's, when Turkish tourism had its early beginnings..
We have recently re-established, renamed and restored Omer's Place into a modern, comfortable,
welcoming family- run guest house..The Goreme Valley Cave House is an exclusive and quaint establishment personally accommodating only 26 people at one time.
Our accommodation includes 6 standard rooms (with en-suites),
3 underground cave rooms (with en-suites) and a 6 bed cave dorm room. All the rooms contain Wi-Fi..
Each room is decorated in the traditional style with carpets, kilims and unique Turkish furniture..
You can enjoy your breakfast every morning looking out at the magnificent views of the Goreme Valley with hot air balloons soaring over you from our beautiful terrace..
Our hotel is located in the heart of Cappadocia, Goreme National Park.
It is only a 2 minute walk into the town center and 1 km from the famous Goreme Open air Museum. Goreme Valley Cave House is your home away from home during your memorable stay in Cappadocia. Our family are delighted and pleased to welcome you with our Traditional Turkish hospitality.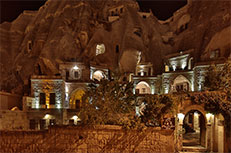 MID-RANGE
VILLAGE CAVE HOUSE
Village Cave House is an old local cave carved family house
that has been restorated and turned to an inn in the center of Göreme National Park.
Being carved into Göremes' one of best location caves,
Village Cave House offers magnificent views of volcanic valleys and rock formations as well as unforgettable sunset views.
Village Cave House offers numerous kinds of cave rooms with taste of history,
nature and culture altogether beside modern luxury lifestyle combined with local life style of the past.
All rooms have private patio in front, private bathroom (some with Jacuzzi), slippers, towels, free Wi-Fi, TV, etc. Fresh Turkish breakfast is also served every morning at the garden under the apricot trees accompanied by birds in songs with magical views.
Special dinner parties can also be arranged.
Family run Village Cave House is ready to be your home during your visit to Cappadocia. We are more than happy to welcome you with traditional Turkish hospitality.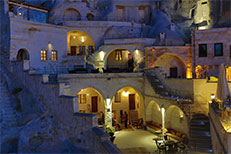 MID-RANGE
VEZIR CAVE SUITES
Vezir Cave Suites is a beautiful cave hotel overlooking the Fairy Chimneys of Goreme.
Our cave rooms with their own terraces and balconies allow guests to sit and take in the delightful views of Goreme, Goreme Valley, Uchisar Castle and gorgeous sunset in Cappadocia.
We have recently refurbished and our bathrooms are newly fitted with shower and Jacuzzi facilities.
We are a family run business and we pay great attention to our guests and ensure their stay is a very comfortable one.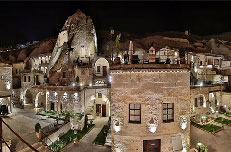 LUXURY
ARTEMIS CAVE SUITES
You are at the right place in Cappadocia to spend some magical days,
where your aim of a classic vacation will turn upside down,
when entertainment and rest will be accompanied by an overwhelming of culture.
You will forget about the comfort and luxury of the 21st Century,
finding yourself in rooms graved into rocks, taking you back for ages and you may not want to leave.
Of course we recommend you to have a look outside due to the unique location of our hotel.
Göreme is located in a sophisticated area south of the "red river" (Kizilirmak) in the middle of the Nevsehir-Ürgüp-Avanos triangle. Besides of being located in Göreme – the pearl of Cappadocia – our hotel is placed at the bottom of the most magnificent point;
the Aydin Kiragi which is also known under its other name "hill of lovers" (Asiklar Tepesi) in a romantic looking street with history written all over it.
While drinking your coffee you may enjoy the storybook landscape with fairy chimneys all over the place in this little global village.
We are waiting for you to read, understand, live and tell this fairy tale written by the hands of rain and wind, culture and history.