Standard Flight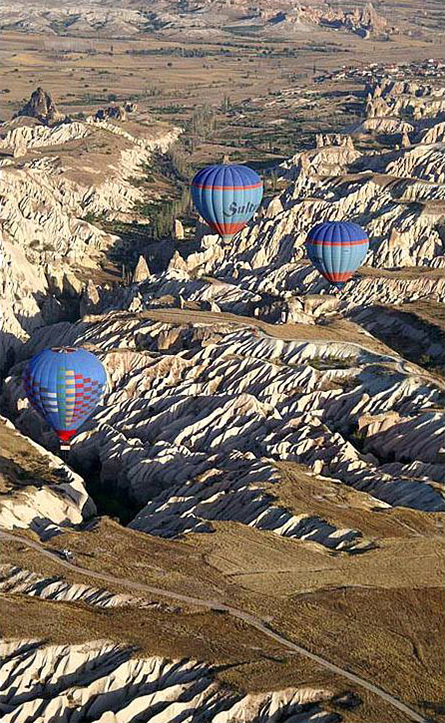 The Standard Flight will be airborne at least one hour and has a larger balloon capacity (maximum 20 people).
We transfer our guests from their respective hotels to the flight headquarters about half an hour before sunrise.
Our passengers will check-in and have a light breakfast before the flight while the pilot chooses a good launch site according to the wind directions. After breakfast we transfer our guests to the selected launch site. The pilot gives a brief talk on safety factors before takeoff, and then the flight begins.
The balloon rises up to 1000 meters above the ground depending on flight conditions, and guests will float above the beautiful and scenic Goreme Valley. Because balloons fly according to the winds, no balloon flights are identical, making the experience truly unique.
Guests number between 12 and 20 people, and each guest is insured by our insurance policy, included in the flight cost.
After landing, our guests will enjoy a celebration with the traditional champagne and cake provided by our landing crew. We encourage guests to take pictures next to the basket, talk with the pilot, and enjoy the festivities. Commemorative flight certificates will be issued to each guest as a keepsake for this magical journey.
Duration is a minimum one hour in the air. From the hotel pick up to drop off, our balloon excursions last approximately three hours; you will be back before 9am and have the rest of the day to relax or join a daily excursion to enjoy more of Cappadocia.

Services included in the Standard Flight:
-Light breakfast and drinks before the flight
-Transportation
-Minimum 1-hour flight time
-Full passenger insurance
-After flight celebration
-Flight certificate


Cancellation Policy:
In case of flight cancellation due to inclement weather conditions, passengers will be issued a full refund.
BOOK NOW

---
BLOG
FOLLOW US ON SOCIAL MEDIA