Cappadocia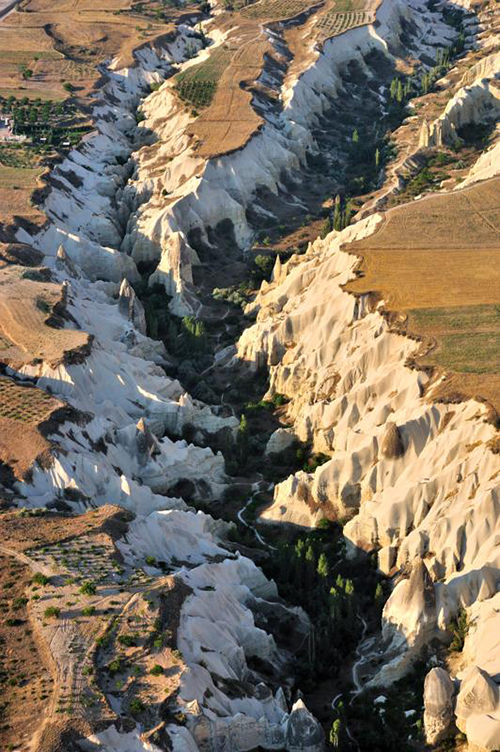 Cappadocia, a unique location in the world and a miraculous natural wonder, is the common name given to the provinces of Aksaray, Nevşehir, Nigde, Kayseri and Kirsehir in the Central Anatolian region. İn an extraordinary meeting of nature's artistic splendour with humankind's resourcefulness, Cappadocia is one of the few places on earth that must truly be experienced at least once in a lifetime. With soaring rock formations, uniquely-rippled landscapes, splendid walking trails, mysterious underground cities and rock-cut churches, Cappadocia is the must-see location of Turkey.

The history of Cappadocia, riddled with wonderful rock formations and giving rise to a fascinating cultural heritage, dates back to 3000 B.C. This awesome geography where history and nature intertwine has been host to many civilisations throughout the centuries. The unique volcanic landscape of the region took shape as a result of the erosion of volcanic layers that emanated over the land with the eruption of the Erciyes, Hasandag and Güiiüdag mountains about 60 million years ago.

Cappadocia, which means "the land of the beautiful horses" in the Persian language, has been the hub of many civilisations as well as an important shelter and centre for Christians fleeing from the Roman Empire during the Hettite period. During this epoch, Christians took refuge in dwellings and churches carved inside of the rocks. With the geological formation of fairy chimneys- distinct pinnacles of volcanic rock- the local communities were able to carve out distinctive domestic structures comprising houses and religious frescoes, the remnants of which can be found today, thus connecting the past to the present.

A district of Nevşehir and one of the key points of the Silk Road, Cappadocia is inscribed in the UNESCO World Heritage list. İf you are ready to go on a journey into dreamland, then Cappadocia is waiting to introduce you to all of its mysteries!
---
BLOG
FOLLOW US ON SOCIAL MEDIA